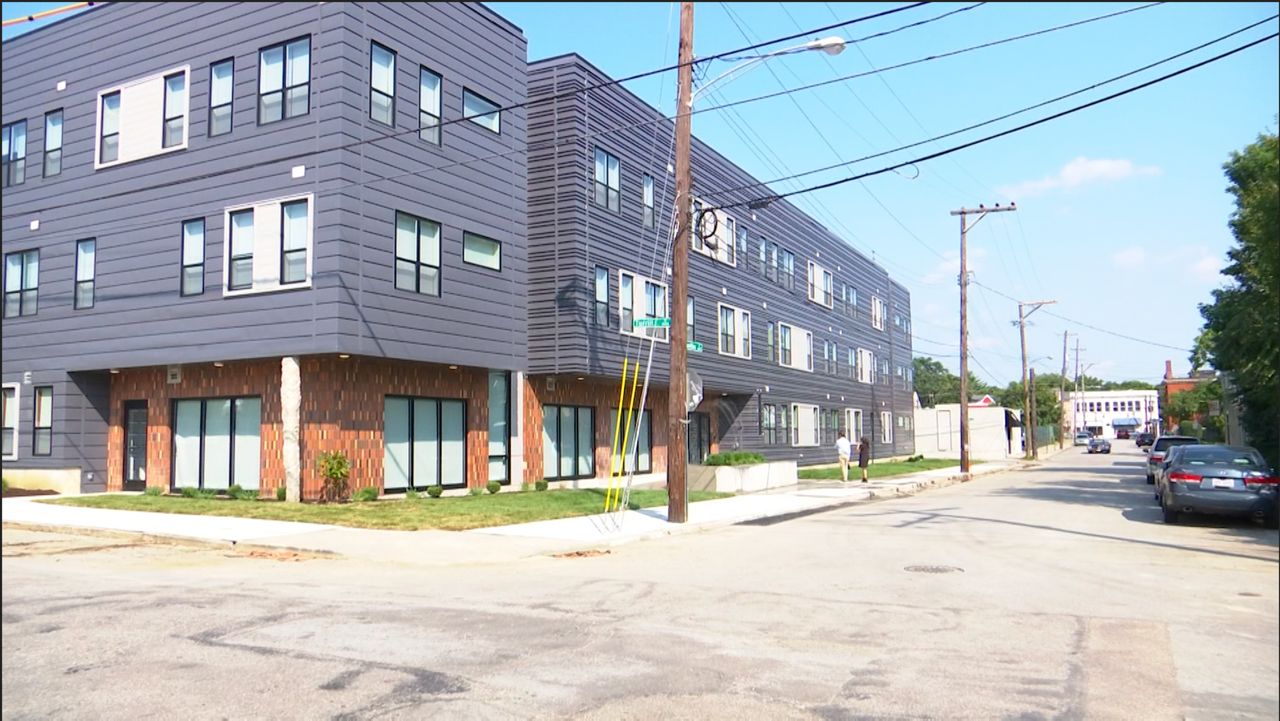 John Arthur Flats will provide affordable LGBTQ housing for seniors
CINCINNATI — Among the most vulnerable populations looking for housing are low-income seniors and the LGBTQ community.
Cincinnati's John Arthur Flats plans to open in October and aims to support both.
According to Ohio Housing Finance Agency52% of renters aged 65 or over are housing overburdened, meaning they spend more than a third of their monthly income on housing and as the population ages, the Department of Housing and Urban Development s expect this proportion to increase.
Meanwhile, despite federal laws prohibiting it, LGBTQ people still face widespread housing discrimination and are more likely than their straight peers to face poverty or have children and families willing to support them as they age.
In Cincinnati's Northside neighborhood, the John Arthur Flats aims to help those at the intersection of these identities, providing 57 affordable units in the state's first affordable and LGBTQ-inclusive seniors' apartment complex.
The project took at least three years to complete through a collaboration between the neighborhood's development arm, Northsiders Engaged in Sustainable Transformation, and the developer, Pennrose.
"Northside is really committed to trying to bring more affordable housing," said Sarah Thomas, executive director of NEST.
For Thomas, the long-abandoned grocery store property that once stood at 4145 Apple St. seemed like a prime location, so with Will Basil, the Pennrose developer, they worked to design a project that could bring credits to Thomas. tax for low income housing and making the most of the space.
"We started talking with Pennrose about their past projects and their projects around the country that we really liked and thought they were a good fit for Northside as examples and we talked a lot about the development of John C. Anderson that Pennrose had done," Thomas said.
The apartment complex in downtown Philadelphia was the developer's first LGBTQ-inclusive seniors' housing complex and all of its units were designated for seniors, representing 20-60% of the area's median income.
As the original home of Cincinnati Pride and a rich history of LGBTQ activism in Cincinnati, Thomas thought a similar project would be a perfect fit for Northside.
"When you think about the first generation that really started living their lives publicly in the world, they're now getting older and they're now in that ideal age bracket of needing affordable housing, secure housing , mostly they just need a place where they feel like they can be themselves and their peers are comfortable with them," she said.
While anyone of any gender or sexuality identity over the age of 55 who meets the building's income criteria is welcome to apply, the building's goal was to provide a welcoming and supportive environment for members. of the LGBTQ population, offering on-site medical and social services adapted to this community.
It was approved for $10 million in LIHTC funds and the $13.2 million project began in June 2021. Thomas said the name, John Arthur Flats, came from community input.
"Some people involved with NEST had personal friendships with him and we started talking about, you know, how can we honor the community and also just show the importance of this type of groundbreaking housing," she said. .
John Arthur and his husband, Jim Obergefell, met in Cincinnati and spent much of their lives in the city, although same-sex marriage is illegal in Ohio, so the couple went to Maryland to get married. .
Arthur, diagnosed with ALS, was nearing the end of his life when Obergefell sued the state for the right to put his name as Arthur's spouse on his death certificate. The case eventually went to the Supreme Court and Oberfell v. Hodges is known as the landmark case that made marriage equality the law of the land.
"John has since passed away, but we're working with Jim to bring this the attention it deserves within the community here," Thomas said. "Immediately after this fence there will be a memorial tree for John Arthur which will be planted in a private ceremony."
Scheduled to open in October, the apartments are currently accepting their first housing applications. Studios, one-bedroom, and two-bedroom units are available for adults over 55, which is between 30-60% AMI.
Although this is the first affordable and LGBTQ-inclusive seniors' apartment complex in the state, another LGBTQ-inclusive housing project opened in Lakewood last year.