September tourism revenue plummets as SL braces for a rebound in seasonal arrivals – Reuters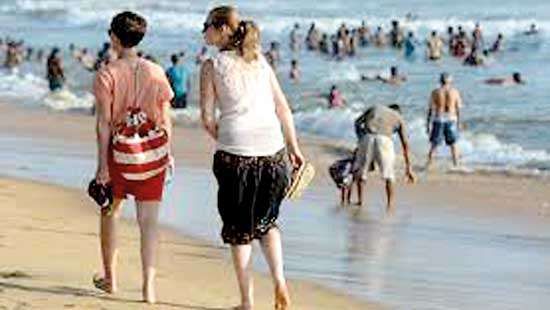 September tourism revenue plummets as SL braces for a rebound in seasonal arrivals – Reuters
---
Sri Lanka saw its revenue from the tourism trade fall in September for the second consecutive month due to weaker arrivals ahead of a more prospective season which started from early October and ends in January.
According to data available through September, the tourism trade brought in $53.6 million in foreign currency during the month, bringing the nine-month cumulative revenue to $946.4 million.
September earnings were lower than July and August, when the figures for those two months were US$85.1 million and US$67.9 million, respectively.
In the same month a year earlier, the trade generated US$35.3 million in revenue from 13,547 visitors when the country was under lockdown, which was only lifted on October 1.
In September, 29,802 tourists visited Sri Lanka, less than 37,760 arrivals in August and 47,293 arrivals in July.
Sri Lanka's monthly arrivals topped 100,000 through March as the country got off to a strong start for tourism with high hopes of foreign currency it could generate in 2022, following two years of near decimation of tourism. industry due to the pandemic.
However, the economic crisis that was caused by the shortage of foreign currency precipitated months-long social and political unrest, which clouded the outlook for the industry as major source markets imposed travel advisories against the Sri Lanka before they have been gradually relaxed for a few months.
While September is typically a quiet month for arrivals, tourism authorities said negative media coverage of the country's economic and social conditions had impacted the industry as many potential inbound tourists looked beyond Sri Lanka or canceled their travel plans to the country.
As a result, Sri Lanka recently reduced its arrivals target to around 800,000 to 850,000 by the end of the year from one million arrivals.
In nine months, Sri Lanka welcomed 526,232 visitors as tourists.
With the start of the winter season in Europe, Sri Lanka is considering a possible increase in bookings, especially from countries like Germany and Switzerland.